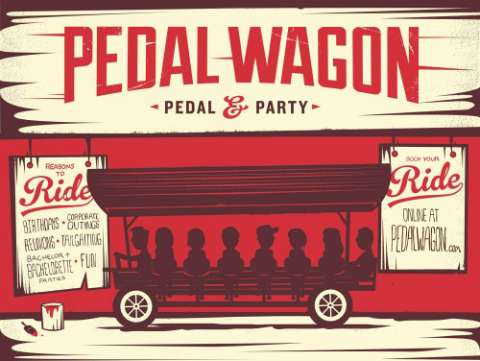 Consider the Columbus Pedal Wagon as an unconventional meeting place for your office.  How big an office do you work in?  You could have an office meeting on wheels.
Would you want to win a Pedal Wagon Party  Meeting for your office?  Just name one to 14 people in a comment on the  the July 31, 2013 post on ColumbusBestBlog.com / 365 Things to do in Columbus Ohio:
>>>Win a Columbus Peddle Wagon Party<<< 
or meeting?
Increase the odds of your office winning the Pedal Wagon Meeting / Party for your office, ask co-workers, friends to comment naming you of course as someone they want to "pedal" with.     Pedaling on a bicycle built for 12 with a bar in the center at about 5 miles an hour is about team work.   There are no open containers allowed on the Columbus Pedal Wagon because of local laws… so there would not be drinking going on anyway.
Can you drink coffee on the Columbus Peddle Wagon?  At 5 mph will coffee stay in your mug?   What would an office  meeting be like without coffee?
An Unconventional Meeting
In August 2013 Columbus CEO  published 'Unconventional Meetings*'  about local spots for business meetings, a number of central Ohio venues were recommended for meetings.
'Unconventional Meetings' named a movie theater, a bowling alley, a school, a park and conservatory,  a sports bar and a zoo as places to hold office or company meetings….
The zoo and conservatory named in the article are probably pretty evident but you are going to have to read the article to see what bowling alley, movie theater, school (college and graduate level) and sports bar Lisa Hooker recommended as spots for Columbus businesses to meet.   She made additional recommendations but I do not see any meetings on wheels in her list.
Columbus CEO says "Lisa Hooker is a freelance writer."    The link above is to CEO Columbus.  There is NOT  a place on Columbus CEO to win a meeting or party on the Columbus Pedal Wagon.  The first link in this post is the place to win a meeting / party for you and up to 14 friends or co-workers.
Size matters… a meeting on the Columbus Pedal Wagon
How big is your office?  How about the  Columbus Pedal Wagon* as an Unconventional Meeting Place with wheels on it?   Some companies, offices would be too large for the Columbus Pedal Wagon, wouldn't they?
Hmmm I did not disqualify anyone from winning this "party."  The Lewis Center HER Realtors* office is a small enough group to fit on the Columbus Pedal Wagon. The Lewis Center  HER Realtors office is in Powell, but that's another story.    The Powell HER Realtors office would be too large.  I think the Worthington HER Realtors* office has grown too large to fit on the Columbus Pedal Wagon.    The group who shows up usually for office meetings at the combined Lewis Center / Powell HER Realtors meeting  would fit on the Columbus Pedal Wagon with ease.
Other local real estate offices? The Keller Williams agent who comment spams real estate posts on ColumbusBestBlog.com looking for links to his team's website? Or maybe the spam filter on ColumbusBestBlog.com is automatically not publishing that real estate agent's comments now.
Other offices that could hold an office meeting on the Columbus Pedal Wagon?  A small builders office?  Or a larger builder's staff at a model or community?
An insurance offices? Doctors offices?  How big is your office?   Would your office  fit on the Columbus Pedal Wagon? I'm not talking about the stature of the individuals within the office. In talking about SIZE  I am asking about the size of the office.  Twelve people pedal and  three get to go along for the  ride… there's also a Columbus Pedal Wagon "guide" on each adventure.
Use the Pedal Party or meeting to take clients out to see Columbus?  or for a Pub Crawl.  You know your clients.
Columbus Pedal Wagon Meeting / Party
If I won…but I am disqualified from winning! That would not be right.  If I won I probably would not waste the Pedal Wagon Party on an office meeting.  Read the Pedal Wagon site about what Pub Crawls are like before deciding to do an office meeting on the Columbus Pedal Wagon.  Getting your office to comment and win an office party is not a bad idea though.  Team work is what the ColumbusBestBlog.com / 365 Things to do in Columbus Ohio drawing for a Columbus Pedal Wagon Party is all about.
Columbus Pedal Wagon Party / Meeting  Rules
Comment with names (faux or real)  on the July 31, 2013 entry
Drawing ends August 7, 2013
One winner will be drawn
Winner chooses up to 14 friends to attend their Columbus Pedal Wagon Party
No cash value… buying this party / meeting would be $30 per person that's a $450 value but you can not redeem it for cash
The Pedal Wagon Party is from Columbus Pedal Wagon to you.
The Pedal Wagon Party must be redeemed in 2013
Please tell me I did not publish this with "Pedal" spelled "Peddle."   Writing this I can not tell you how many times I spelled it wrong (and on all posts written before this.) I am a pretty good speller…
The image at the top is the image on the Columbus Pedal Wagon Facebook page, "Cbus Pedal Wagon."  See it says "Corporate Outings"  there?  That's what it's all about have your Columbus corporate meeting on wheels.  You can win one if you act fast on ColumbusBestBlog.com!
*There is no place to win a Pedal Wagon Party / Meeting on the Columbus Pedal Wagon site, their Facebook page or the Columbus CEO magazine site…. nor will commenting on old or new posts on CBB.com get you in the drawing.  The drawing is for comments in the first link above.   Don't comment here.  Comments are closed  on  Pedal Wagon: An Unconventional Meeting Place